Home Parts For Fender Parts For Gibson Contact
Fake 58 shrunken tuners.
The ultimate vintage spec upgrade for Gibson Les Paul, ES335, ES175 etc.
Quite simply, the most accurate reproductions available of the classic 1950's shrunken tipped Kluson tuner. Nothing else comes close.
Each set individually crafted.
£79 per set
Kluson tuners of the 1950's were notorious for their shrunken tips. Many disintegrated entirely, whilst some didn't shrink at all. Others shrunk to the size of the infamous "mummy toes" and stayed that size. Our tuner tips replicate those shrunken tipped Klusons exactly. Through painstakingly accurate details like shrunken original mould markings and accurate colour matched marbling.
Just like the originals, every set is slightly different producing an exquisite tuner fit for any reissue, R8, R9, Classic etc. In fact many of our tuner sets are now finding their way on to original vintage instruments. Old, fragile tuners are being safely packed away for safe keeping and replaced with our sturdy look-alike 15:1 geared shrunken tipped replicas.
Want to see what they look like on a real burst? Check out the video below, courtesy of Rumble Seat Music's YouTube page. Joe Bonamassa playing his 1959 "Magellan" Les Paul. Joe has publicly stated on his website that he has fitted our tuners to this guitar to maintain the vintage look and preserve the fragile originals.
The base tuners used for these sets are the highly regarded Gotoh manufactured Klusons. Featuring vintage accurate 1/4" diameter string post with flat tops, vintage accurate 9/64" diameter button shaft and Kluson Deluxe stamped on the back in a single line. Please don't confuse these with the cheaper and rather klunky looking WD Klusons that have a 4mm diameter button shaft and slightly domed string post. The Gotoh made Klusons are as close as you can get to the spec of an original 50's Kluson.
Direct replacement for vintage1950's & 1960's Kluson Deluxe and modern Gibson Historic tuners.
Supplied with aged press fit bushings, aged screws and a matched replacement tip.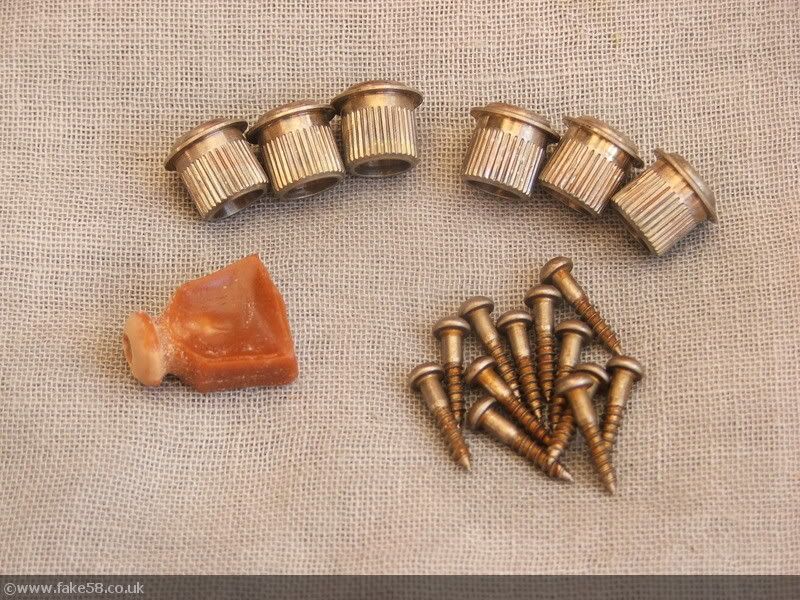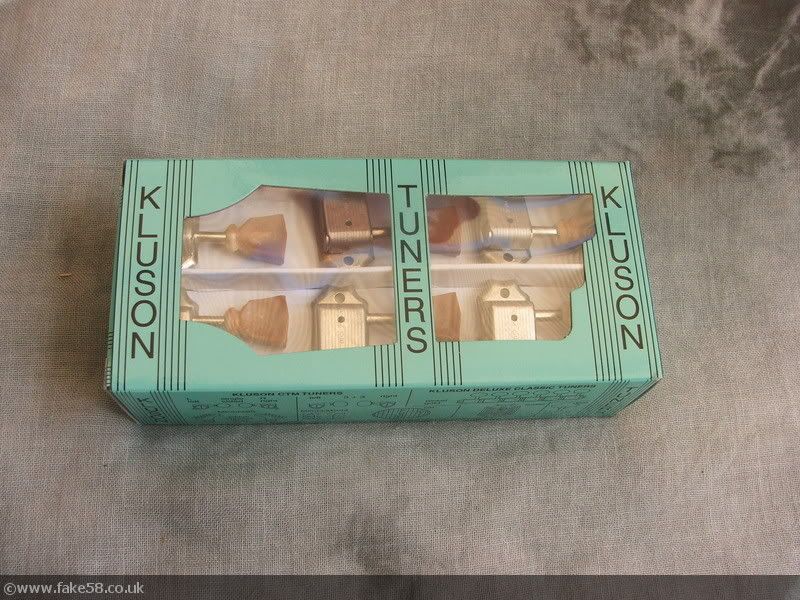 Video © Rumble Seat Music. Used with permission.
"Magellan"
This guitar was all original when Rumble Seat supplied it to Joe. Our shrunk tuners maintain the vintage vibe with more accurate tuning and no risk of damage to the originals.
Photo © JoeBonamassa.com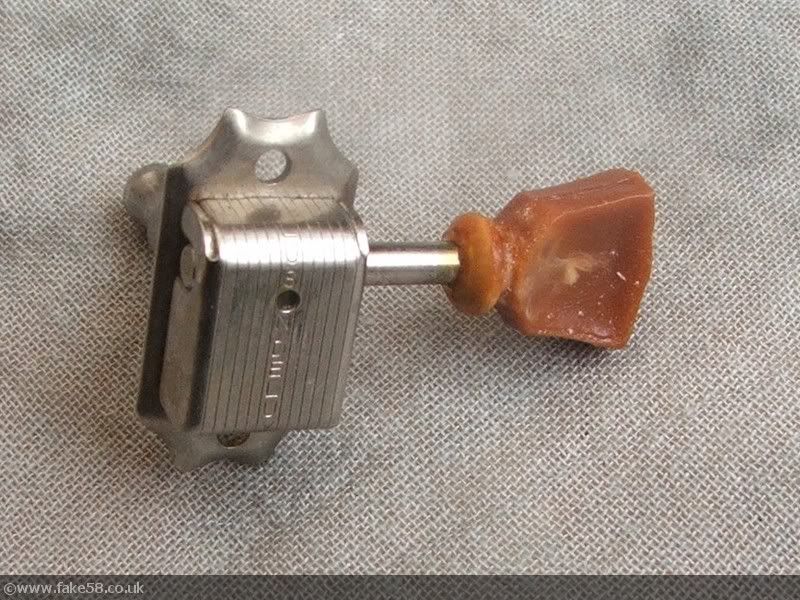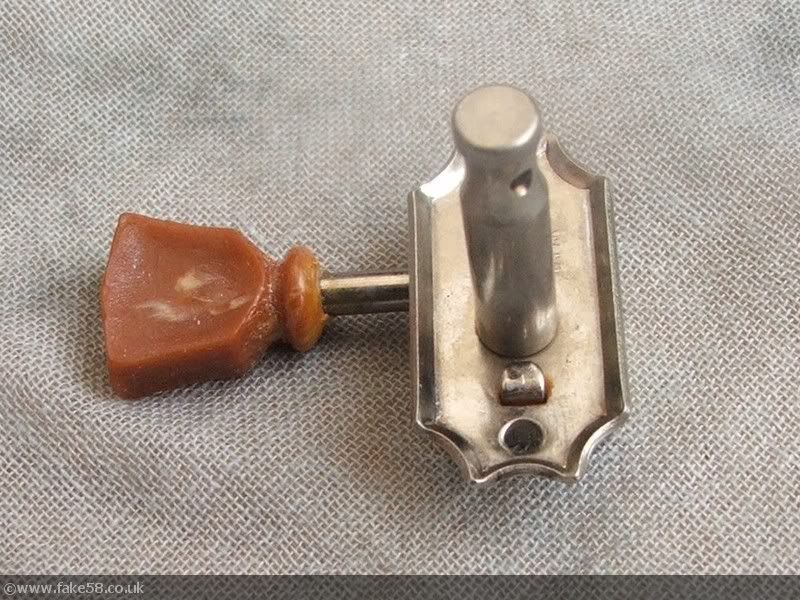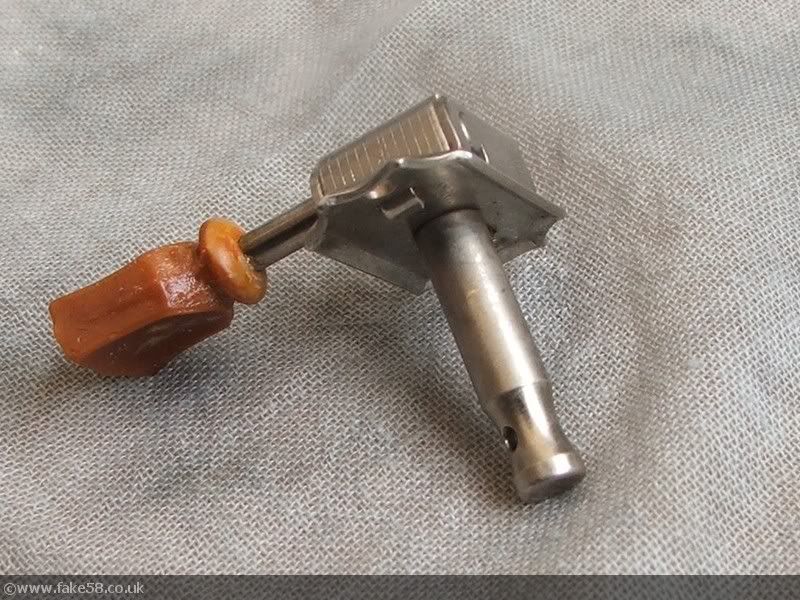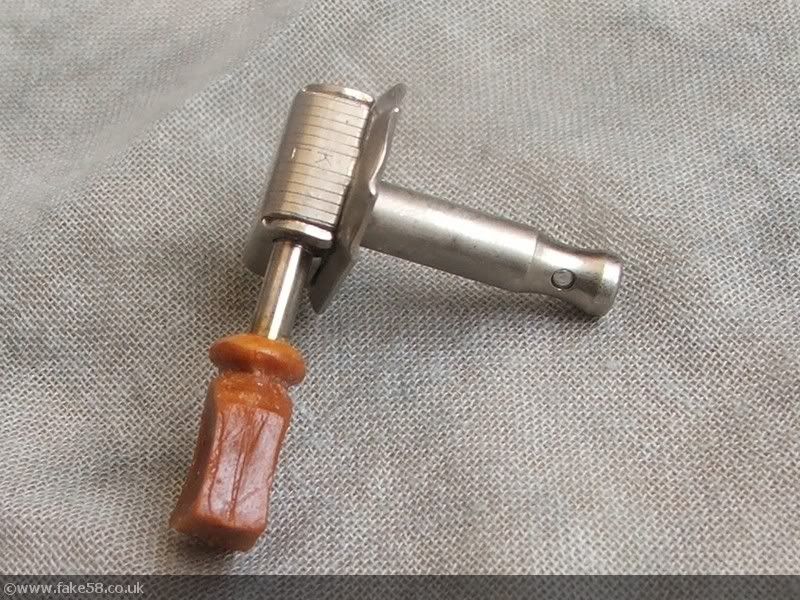 Page23 shrunken tuners.
In response to a request from our good friend Tom Core we made a lighter shrunken tuner with the aim of replicating some of the tuners seen in the legendary book "Beauty of the Burst"
Specifically, Tom wanted us to work towards replicating those found on Burst # 9 1854, on page 89. Tom also noted the lighter tuners on the guitars of pages 143 and page 23 (hence the name we've chosen)
Our original shrunken tuners were made to match the darker amber style of our original reference tuners we have here in the workshop which are also similar to the colour found on many of the BOTB guitars, notably pages 106, 120 and 138
Here's are some comparison shots showing the colour difference between our new "Page 23's" on the left and our "original" shrunken tuner on the right.
All sets come complete: 6 shrunken tuners, 6 bushes, 12 screws and a spare shrunken button. Want a mixed set? e-mail for details.